A portly man with a long, white beard named Santa Claus won a city council seat in North Pole, Alaska, on Tuesday. Reached by phone Wednesday morning, his voice sounded warm and a little gravelly. Perfectly in character.
Claus, 68, had already done half a dozen interviews by 10am, he said, talking with reporters as far away as Israel. North Pole is a community of a little over 2,000 south of Fairbanks in interior Alaska. He won as a write-in candidate with 58 votes.
It seemed everybody got a kick out of his election.
Claus was born Tom O'Connor, but he changed his name 10 years ago, he said. At the time he was living in Lake Tahoe, Nevada. He decided to grow out his beard and it came in white and bushy. That led him to play Santa over the holidays for some charities.
"I had a ball," he said.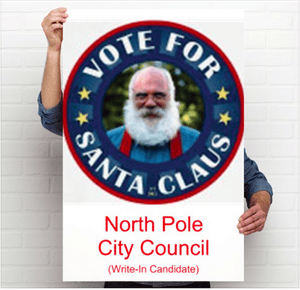 Claus had worked in law enforcement, as a chaplain and as a television news director (he's also a dissertation away from a doctorate in education at NYU, he said). Around the time he grew out his beard, he decided to get involved with children advocacy. One day, as he walked to the post office in Tahoe, he began to pray about the direction his life should take, he said.
"One of the parts of the prayer was, 'Shall I change my name?'" he said. "Right after I finished my prayer, this white, sort of nondescript car comes by. I heard what sounded like a guy in his 20s shout out, 'Santa, I love you!'"
And so he changed his name to Santa Claus.
Read the rest of the interview here.